Yes, you can get food delivery on Amazon using your SNAP EBT. You can link your SNAP EBT to your Amazon account to get discounts on grocery food delivery.
There are some requirements which you need to follow to be eligible for Amazon EBT food delivery. One of these is adding your SNAP to Amazon. This is an easy process if you follow the instructions on the Amazon page.
What Are the Food Delivery Options on Amazon with SNAP EBT?
Once you have added your identity details to Amazon you'll get the following:
access to Amazon Fresh & Free deliveries on orders of $25 or more ($50+ in NYC)
access to Whole Foods Market & $9.95 delivery fee
free delivery on Amazon grocery orders of $25 if you are not a prime member
free delivery on Amazon grocery orders with no minimum spend required if you're a prime member.
Amazon now offers discounted Prime membership for EBT recipients that works out about half the price of a standard membership. This discounted option costs $7 a month and you have to verify that you are still eligible every 12 months. These members are eligible for the same benefits as those who are paying the standard Prime membership rate. If you are a Prime member paying the full member price for a Prime account but qualify for the discounted rate because you qualify for EBT you can apply online by selecting a verification method.
How to Add Your SNAP EBT to Amazon to Get Discounted Food Delivery
The first step you should take is to follow the link on the Amazon website that states add your SNAP EBT card to your Amazon Account. Before doing this you should make sure you are signed in to your Amazon account or create one for yourself. You then select the link that says Add your SNAP EBT card". At this step you will be asked to add your EBT card number and then you click continue and follow the next instructions. You must make sure that you select your EBT card as your method of payment for SNAP eligible items.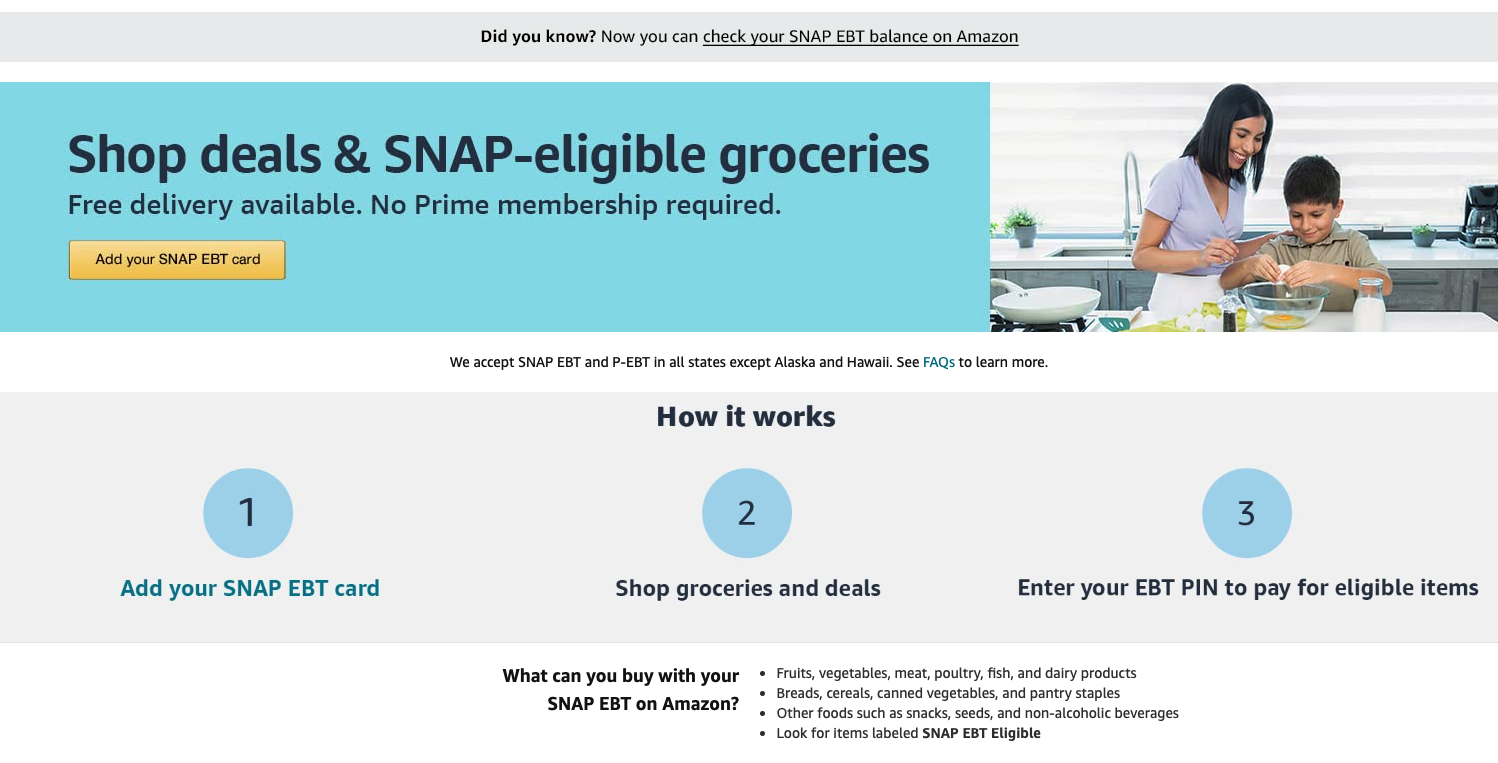 What Food Can I Get Delivered From Amazon With SNAP EBT?
Any food that you can buy in store with SNAP you can get delivered from Amazon. This includes the following products:
fruits, vegetables, meat, poultry, fish, and dairy products;
breads, cereals, canned vegetables, and pantry staples;
other foods such as snacks, seeds, and non-alcoholic beverages.
In order to ensure you get the products you prefer you should look for items labeled 'SNAP EBT Eligible'.
Amazon also has a great selection of EBT-eligible weight loss products. These products are usually classified as meal replacements, which is why they are EBT eligible at Amazon and most other retailers too.